Accommodation
Booking your accommodation is your own responsibility!
Accommodation at Schloss Waldthausen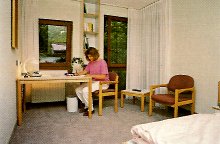 There is a block reservation for rooms at Waldthausen castle. The rooms are equipped appropriately with shower and toilet as well as telephone and internet access (WLAN). Front desk is open 24 hours. In the restaurant you can get breakfast buffet and dinner.
Recreation facilities (gym hall, 2 tennis courts, sauna, television room, billiard room, bowling alley) are available to guests by prior reservation free of charge. Ample parking is also available without charge. Worth mentioning are miles of hiking tracks for sport and relaxation.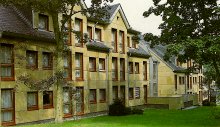 Please note that Schloss Waldthausen is located outside the Mainz city center in a remote and quiet woods area. Beside the recreation facilities and restaurant mentioned above there is a nice restaurant called "Turm" close to the area (5 min walk). The city of Mainz can be reached via bus line 64 or taxi (about 8 km/15–20 min, see Travel Information for further details).
Prices are 78 € (single) incl. breakfast. Bookings are binding and have to be done by March 1st, 2016. Please fill in the reservation form and send it to Ms Andrea Rieger via Email andrea.rieger@sv-rlp.de or Fax (+49 (0)6131/1457234).
Alternative Accommodation
For those who want to stay in the Mainz city centre we propose
Hotel Königshof
Schottstraße 1-5
55116 Mainz
Tel. +49 6131 960110
Fax +49 6131 611271
http://www.hotel-koenigshof-mainz.de/
Hotel Königshof is very close to the Mainz Central station (Hauptbahnhof). From there you can take bus line 64 to the conference venue. A greater selection of hotels can be found at Touristik Centrale Mainz.
For participants with a small budget we propose
Waldhotel zum Taunus
Bingerstrasse 94a
55257 Budenheim
Tel. +49 6139 6435
Fax +49 6139 5830
http://www.booking.com/hotel/de/waldhotel-gastehaus-zum-taunus.de.html
which is very close the workshop venue.